David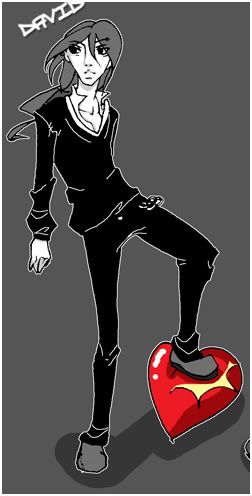 Name: David
Age: 18
Eye colour: dark brown
Hair colour: red
Likes: His band 'mysteries of the universe' and therefore his guitar, girls, k-mart lingerie catalogue's- the cheap man's pron and pizza with everything on and Chess... he suppose's. Dislikes: Chess, sometimes, Owen, boys in 'that' way, not getting enough sleep and maths.
David's favourite quote: I'm not gay dammit.

Chess

Name: Chess
Age: 16
Eye colour: blue
Hair colour: pale blonde
Likes: David, hair clips, following David, watching clouds, lipgloss, japanese culture and making and feeding lunch to David. Dislikes: Girls talking to David, spicy food, David talking to girls and gym class.
Chess' favourite quote: I love you.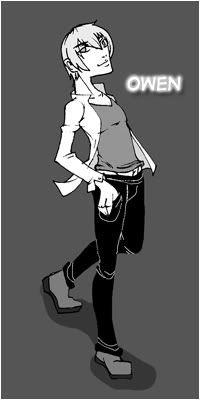 Name: Owen
Age: 19
Eye colour: grey
Hair colour: pale blue
Likes: annoying David, Chess- the boy not the game... okay he secretly likes the game to, spying on people, his laptop, sbs and the local television channel. Dislikes: David, being older than everyone else on account of being held back a year, sports, sweet foods.
Owen's favourite quote: Fuck yeah.